PCW Recycled Content Poly Mailers
PCW Recycled Content Poly Mailers
OCEANPOLY SHIPPING MAILERS
Poly mailers containing a minimum 25% PCW recycled content from Ocean Pollution Sources such as beaches and waterways; recyclable; reusable; certified by SCS Global
Corrugated Shipping Box
MI GOLONDRINA
Custom printed corrugated shipping box; branded interior and exterior; shown with custom printed drawstring dust cover bag, hang tag and thank you note card
Recycled Content Poly Mailers
Recycled Content Poly Mailers
OCEANPOLY & RETHINK SHIPPING MAILERS
Poly mailers made with recycled content; reusable; recyclable; certified by SCS Global; shown with kraft fill which is recyclable and offered in an array of colors to suit your brand
PIR Recycled Content Poly Mailers
PIR Recycled Content Poly Mailers
RETHINK MAILERS
Poly mailers containing a minimum 50% recycled content; reusable; recyclable; certified by SCS Global
Paper Mailers
IMPAK MAILERS
Side or bottom gusset constructions; recyclable; customizable through printing, UV varnish, hot stamping and embossing finishing options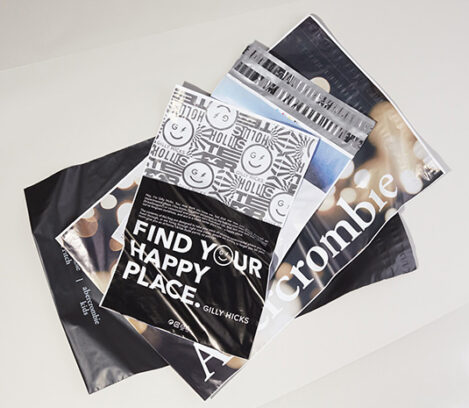 Custom Printed Poly Mailers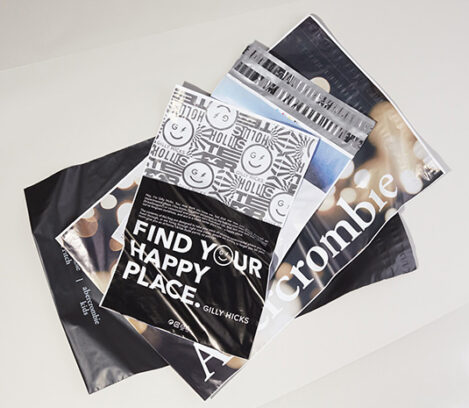 Custom Printed Poly Mailers
ABERCROMBIE & FITCH
POLY MAILERS
Featuring edge to edge printing and custom process printed designs with ombre and shaded areas; reusable; recyclable
RSC Corrugated Box
ARCH NEW YORK
Custom printed RSC corrugated shipping box; recyclable; shown with drawstring dust cover bag and reusable rigid collapsible box
Recycled Content Poly Mailers
Recycled Content Poly Mailers
GAP POLY MAILERS
Poly mailers containing 50% recycled content featuring edge to edge printing; reusable; recyclable
Sustainable Poly Mailers
As part of our custom packaging portfolio, our poly mailers are made from OceanPoly® & RethinkPoly™ materials, two of Impak Retail's exclusive innovations that are not only eco-friendly but also offer a wide range of customization options.
• OceanPoly® – contains a minimum of 25% PCW recycled content from Ocean Pollution Sources such as beaches and waterways. OceanPoly® is reusable, recyclable, and certified by SCS Global.
• RethinkPoly™ – also certified by SCS Global, containing a minimum 50% recycled content. RethinkPoly™ is reusable and recyclable.
All poly mailers offered by Impak Retail Packaging are recyclable; OceanPoly® mailers, RethinkPoly™ mailers and standard LDPE poly mailers can be recycled through your local store drop-off program along with thin plastic grocery bags. Visit How2Recycle to find the closest retailer of over 18,000 nationwide listings.
Custom Ecommerce Packaging Features
When it comes to unique and creative ecommerce packaging, we offer a wide range of options to suit the needs of your business – from basic to custom corrugated boxes to attention-grabbing poly or paper mailers. Whether you're looking to make a bold statement or prefer simple and understated, we can bring your vision to life.
Imagine showcasing your brand's design and message printed in vibrant, edge-to-edge colors, creating a striking visual impact as soon as your customer opens their package. Get more out of your ecommerce packaging through secondary seal strips, allowing for reuse and convenient return-to-sender options.
Customize your ecommerce packaging
Say goodbye to bland, generic shipping options and hello to eye-catching ecommerce packaging solutions. Contact us today and let us help you make your mark on the ecommerce world!
Call us at 855-544-6725 to get a quote or contact us to request more information about how Impak Retail can help with your custom packaging product needs.